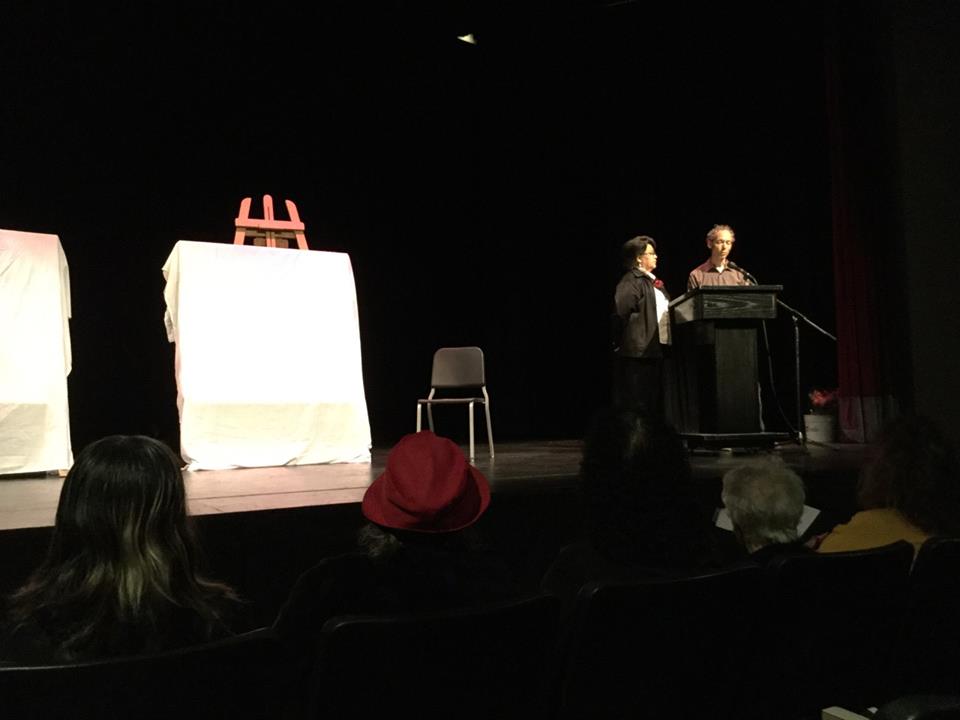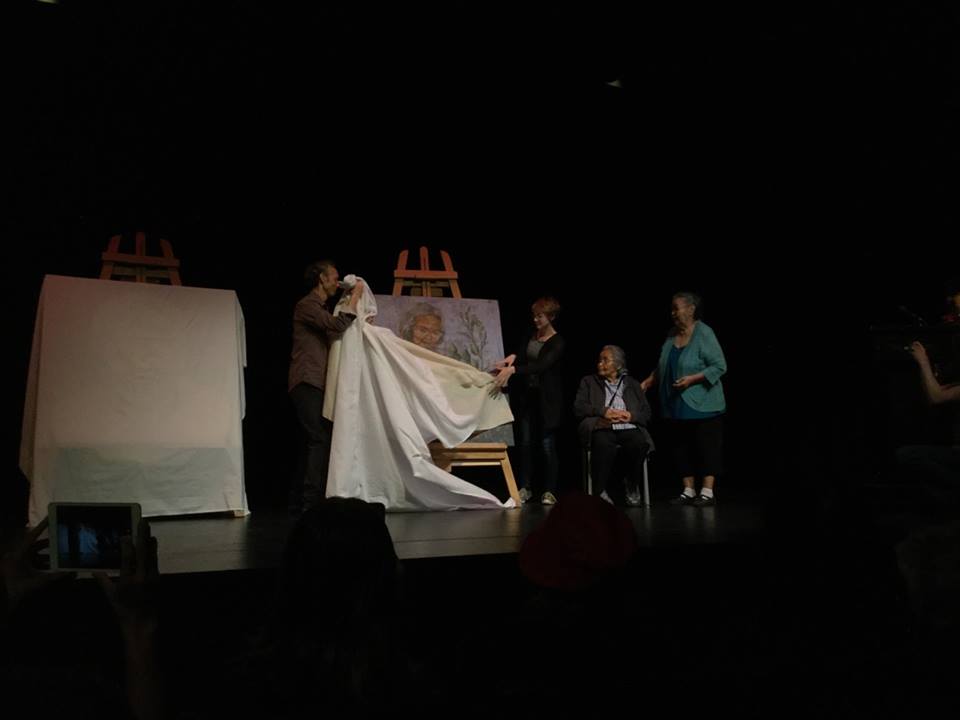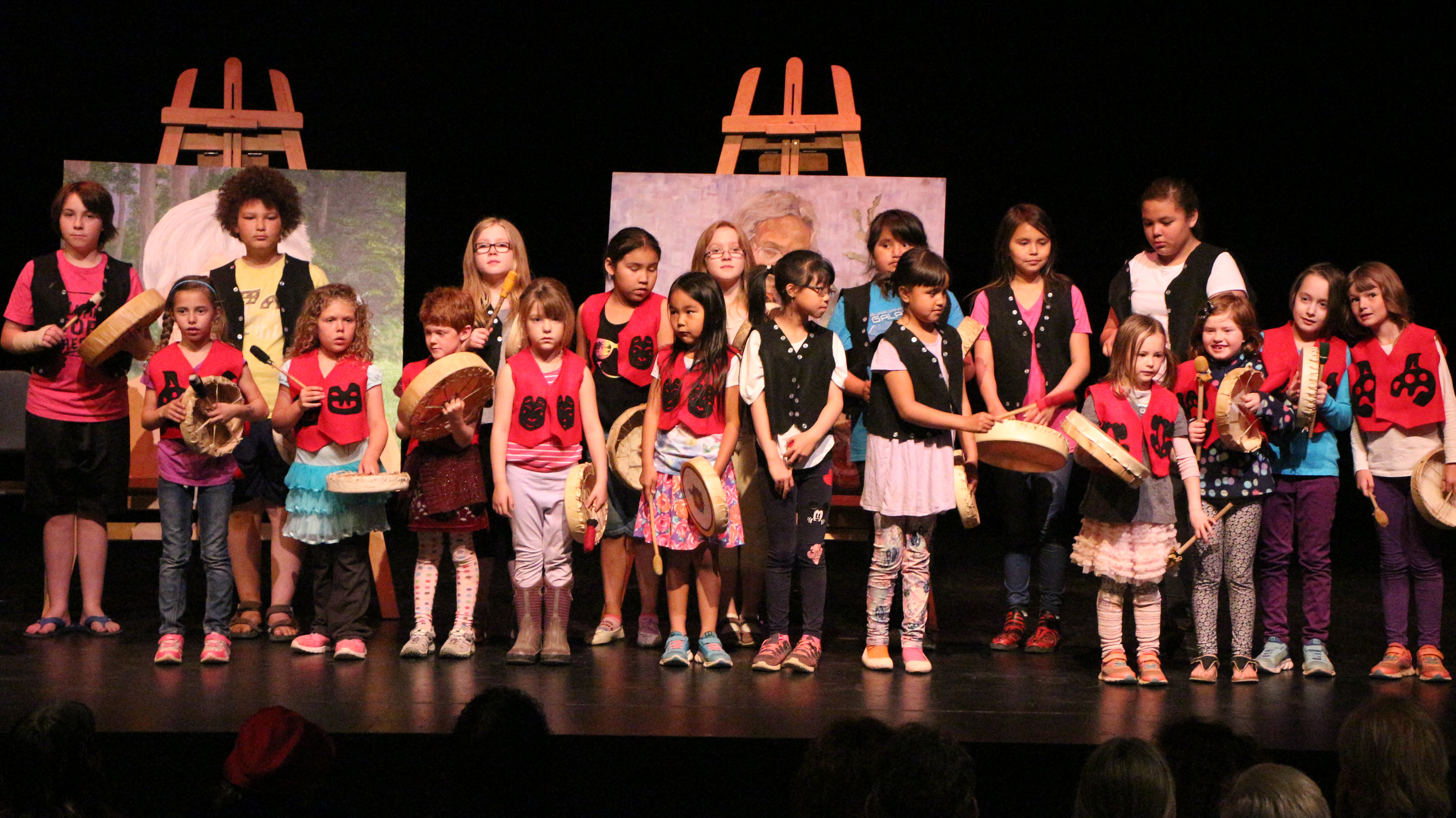 Recently we unveiled our most recent portraits for our biennial "Honouring Our Elders" Legacy project at Smithers Secondary School. Gidimt'en elder Mabel Forsythe was painted by Megan Randall, and Rosemary Fox was painted by Emerenne Saefkow.  This is a project that I was part of initiating back in 2005, along with members of our local Aboriginal Education Council.
We were looking to bring about an artistic project that could bridge generations and cultures – basically to connect us all as human beings and understand how we can learn from each other, particularly from Elders in our community who have contributed so much, as wise counsels, positive role models, and active citizens.  It is easy in today's world for our youth and indeed many of us, to not realize the contributions of those who have come before us.
The mission is to honour elders who are still alive, so that they may feel the gratitude from society for their actions and choices.  We select one from our Aboriginal Witsuwit'en community and one from our non-Aboriginal community, and have students here at our school paint their portraits.  In 2011, our project was recognized with a province-wide Gold Star Award presented by the BC Retired Teachers' Association, and has since been used as a model for other schools.
The student painters typically do not know the elders when they begin this project.  Over time, over the intimate process of painting, they get to know their images and develop a desire to learn about the person behind the portrait.  They are also honoured to be adding to this legacy of our school and community.  I know it can be a daunting task to paint such a large and public portrait, and students push themselves and challenge themselves in ways they wouldn't have imagined.  I get to be involved with the painter's process, and it is amazing to see them develop.  To witness the depth of personal dedication and artistic growth is impressive.
The unveiling ceremony is often very moving, as families and friends from the selected elders gather, along with many students in our school, to witness the unveiling and hear about the life stories of the elders outlining their societal contributions and struggles to overcome.  We then display the finished pieces on our Elders' Wall outside the school, along with a biographical plaque.  To date, this is our 6th cycle of the project, and every two years, we look forward to the next one.
The link to the Interior News' newspaper article and video on this year's event is here.